Upper Midwest Dairy Industry Association Gene Watnaas Scholarship
Congratulations to our 2023 Gene Watnaas Scholarship Winners
This year, there were 10 Gene Watnaas Scholarship recipients for 2023. The scholarships were set up to recognize individuals pursuing an education in a field that will enhance the safety of dairy and food products. These individuals will be recognized at our fall conference in St. Cloud at our awards banquet.
The Gene Watnaas scholarship was named in honor and now in memory of retired long time UMDIA General Manager Gene Watnaas recognizing his many contributions to the dairy industry.
Read more about the recipients below.
Kelsey Biel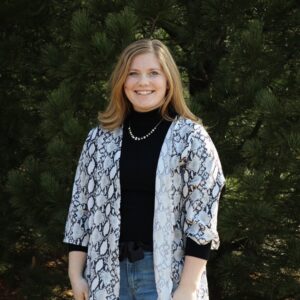 Kelsey Biel is studying Agricultural Education and Animal Science at the University of Minnesota. While growing up on a dairy farm near Harmony, MN she was active in 4H and FFA including showing cattle, dairy judging and working alongside her family. In college Kelsey was involved in Gopher Dairy Club, Beta of Clovia Sorority and Agricultural Education, Communications and Marketing Club as well as being involved with research at the University of Minnesota. She has plans to move back to Southeast Minnesota and teach in the high school or be a farm business management instructor.
Jay Dicke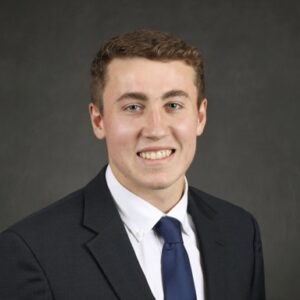 Jay Dicke grew up on a 200 cow dairy farm near Goodhue, MN. He has had three internships at Midwest Dairy, ST Genetics and Lodermeier's Construction Company while in school. Jay is a senior at the University of Minnesota majoring in Agriculture Food Business Management. In addition to owning some cows he owns a no-till drill, rents some land and does custom work utilizing conservation methods in order to preserve the land for the future. He has been involved in multiple clubs and activities while at the University of Minnesota including Gopher Dairy Club, Gopher Crops and Soils and his fraternity. Jay will be graduating soon and is looking forward to being involved in the upper Midwest dairy industry.
Aly Dieball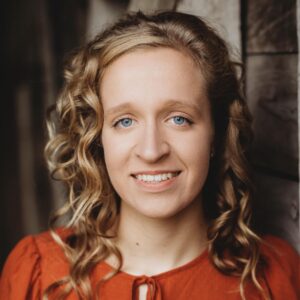 Aly Dieball is a junior at South Dakota State University where she is studying Agriculture Science, Animal Science and Dairy Production. She is heavily involved in her families dairy farm near Green Isle, MN where she owns her own a small herd of cows.  Aly has been active in 4H, FFA and was a Princess Kay of the Milky Way finalist in 2021. After graduation Aly plans to get a career in dairy nutrition with long term plans to come back to the family farm.
Amber Engelken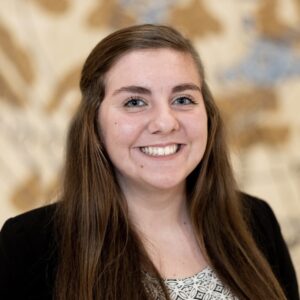 Amber Engelken's interest in the dairy industry started while growing up on her family's dairy farm in Earlville, Iowa. Amber is a senior at Iowa State University where she is pursuing a degree in Dairy Science with a minor in Agronomy and Environmental Studies. She is a member of the Dairy Science Club, Dairy Judging Team, and Sigma Alpha Professional Agricultural Sorority at Iowa State University, and serves as the Secretary/Treasurer for the American Dairy Science Association Undergraduate Student Division. She also served as the 2020 Iowa Holstein Princess and 2021 Iowa Dairy Princess Alternate. After college, Amber would like to stay working in the dairy industry and give back to a community who has given her so many opportunities.
Anna Euerle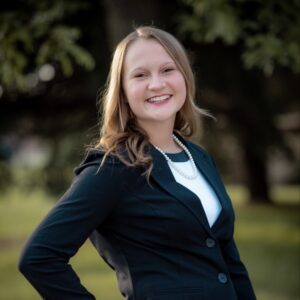 Anna Euerle grew up on a dairy farm near Litchfield, MN and is hoping to get into dairy product development. She is attending the University of Wisconsin, River Falls where she majors in Food Science and Technology with a Dairy minor. Anna has interned with Minnesota DHIA and is planning on getting an internship in a dairy manufacturing facility as she prepares for her future career in the dairy industry. She was active in 4H and FFA while in school and was the 68th Princess Kay of the Milky Way.
Kylie Konyn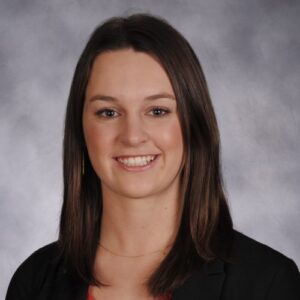 Kylie Konyn is a junior at the University of Wisconsin, Madison studying Dairy Science with a minor in Agricultural Business Management and Science Communications. Kylie has served as the global marketing intern with ABS Global leading guided tours and corporate events. Kylie is involved with the Badger Dairy Club assisting on the expo committee and will be serving as chairman of the 2023 Badger International. Kylie is planning on pursuing a doctorate in dairy cattle genetics or nutrition.
Thomas Lehmann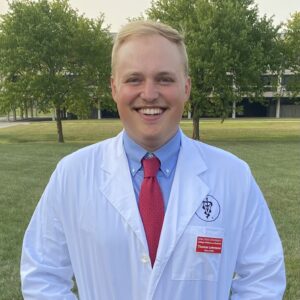 Thomas Lehmann is a third year veterinary student studying at Iowa State University College of Veterinary Medicine. He grew up on a small dairy farm and helped with all aspects from milking to raising young stock to general maintenance around the farm. Thomas was active in 4H and FFA while in school and competed in the dairy cattle judging team while at Northeast Iowa Community College. He is planning on returning to Northeast Iowa to be a dairy veterinarian and be an advocate for the industry and help consumers see the important role farmers play in the community.
Eliza Merges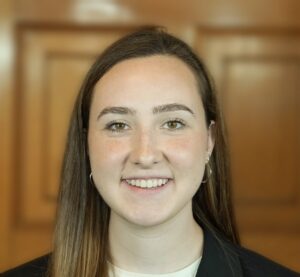 Eliza Merges is a vet student at the University of Minnesota Veterinary College. She has a 4.0 GPA and is interested in working with farmers to improve the health of their cattle. Eliza has worked very closely with Dr. Capel on all aspects relating to dairy cattle handling, treatment and management. She has a goal to work as an Ambulatory Bovine Veterinarian focusing on Dairy Production Medicine.
Margaret Molitor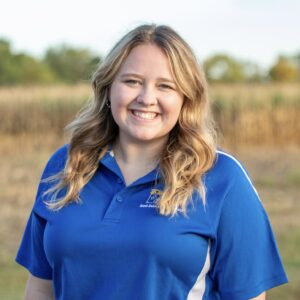 Margaret Molitor is a senior at South Dakota State University pursuing a degree in Dairy Production and Agricultural Communications and has plans to take over the family's dairy operation following college. During the past year she has worked at the Dairy Star newspaper covering a variety of events all while giving a voice to countless dairy farmers by sharing their stories. She was active in 4H, FFA and was runner up for Princess Kay of the Milky Way in 2020 as well as Stearns County Dairy Princess in 2019. While in college Margaret was active in the Jackrabbit Dairy Club, Sigma Alpha and served as social media coordinator during Little International and for the Department of Dairy and Food Science.
Faith Scott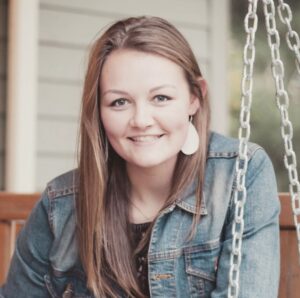 Faith Scott is from Waukon, Iowa and is studying Dairy Science with a minor on general business at Iowa State University. Faith graduated in the Spring of 2023 and grew up on a dairy farm which ignited her passion for the dairy industry. She has held several different internships over the years including Precision Dairy Equipment in Elkader, Iowa, working with Lely robots and Farmers Win Co-op in Houston, MN. While at Iowa State she was actively involved in the Dairy Science Club, Dairy Judging team and on the Deans list.
The Gene Watnaas Scholarship
Applications are currently closed.
Minimum eligibility for UMDIA Scholarship Applications:
Pursuing a degree in Animal Science with emphasis in dairy, Dairy Science, Food Animal Veterinary Medicine, Dairy Manufacturing, Dairy Technology or Dairy Food Science. (Other degree programs may be considered if there is strong evidence of commitment and contribution to the dairy industry.)
Applications from freshmen and sophomore students will only be considered in the absence of qualifying junior or senior applicants.
Completed at least one semester with a minimum cumulative GPA of 3.0
Plans to complete degree program
One reference letter (from a faculty member or dairy industry leader, not a family member)
---
The scholarship program is funded by members and supporters of the Upper Midwest Dairy Industry Association. In addition we received a generous donation from Nelson-Jameson and the Central Plains Dairy Foundation to expand the number of scholarships we were able to offer this year.
Nelson-Jameson is a trusted source of food processing supplies, that represents over 850 vendors and distributes over 55,000 products in the broad categories of: processing; maintenance/repair/operations, laboratory and QA/QC, ingredients, packaging, and chemicals.
Nelson-Jameson products are backed by an expert staff, with a vast amount of plant experience and technical expertise, creating a unique environment of personal service and commitment to your products. The products they offer strive to help lower transaction costs while providing the products and services needed to produce safe, quality food. The Central Plains Dairy Foundation, an independent 501(c)3 organization, is committed to investing in proactive programming supporting the dairy industry along the I-29 Corridor in South Dakota, North Dakota, Nebraska, Iowa, and Minnesota.

Past Scholarship Award Winners:
2022 Gene Watnaas Scholarship
Ashley Hagenow, Ross Herber, Kendra Waldenberger
2021 Gene Watnaas Scholarship
Fred Mansfield, Madeline Zutz
2020 Gene Watnaas Scholarship
Emily Annexstad, Theodore Jacoby, Isabella Portner
2019 Gene Watnaas Scholarship
Josh Brown, Elizabeth Endres, Rebekka Paskewitz
2018 Gene Watnaas Scholarship
Morgan Krause, Kirby Krogstad, Rachael O'Leary
2017 Gene Watnaas Scholarship
Brooke Carrow, Katherine Kindschuh
2016 Gene Watnaas Scholarship
Emmalee Blough, Johanna Knorr
2015 Gene Watnaas Scholarship
Jennifer Jelinski, Mary Leibenstein
2014 Gene Watnaas Scholarship
Emily Plapp, Sarah Roerick
2013 Gene Watnaas Scholarship
Jacob Achen, Matthew Holdvogt
2013 Pioneer Dairymen's Club Memorial Scholarship
Ashley Adamski, Samantha Scroth
2012 Gene Watnaas Scholarship
Jessica Hammerand, Abigail Wirt
2012 Pioneer Dairymen's Club Memorial Scholarship
Courtney Lasky
2011 Gene Watnaas Scholarship
April Johnson, Laura Weisz
2011 Pioneer Dairymen's Club Memorial Scholarship
Megan Kleve
2010 Gene Watnaas Scholarship
Charlie Schiller, Abby Udermann
2010 Pioneer Dairymen's Club Memorial Scholarship
Nicole Stevens
2009 Gene Watnaas Scholarships
Amber Hazel, Lucas Sjostrom
2009 Pioneer Dairymen's Club Memorial Scholarship
Jacquelyne Koch
2007 & 2008 Gene Watnaas Scholarships
Jennifer Becker, Jacquelyne Koch, Samantha Wahls